Gencon Day 1: Thursday
What a crazy day! After leaving for Indianapolis at 5 a.m., arriving around 10 a.m. and waiting 3 hours in line to get our badge and tickets, we finally made it to Gen Con! But enough about our epic tales and adventures, here is what we had the time to see on Thursday, August 2nd 2018:
Board Games We Saw, Tested or Discussed
Holding On: The Troubled Life of Billy Kerr
Skylands
Root
Andres is in love. He had to purchase the game during the convention (even though it is coming out quite soon). It had to be one of the hottest games of Gen Con 2018. The expansion (which adds a lot and is essential, according to the volunteer who explained the game to us) sold out in a few hours. 
It seems like an awesome game of area control with beautiful artwork and graphic design. Every player takes a faction with its own power and way to win. The faction you will have will dictate the way you will play this game and that system is what makes the game very interesting to me. You won't be competing for the same victory conditions as your opponents, but that doesn't mean you can't block people and make sure that YOU have what THEY want. 
The volunteer told us that, while he wouldn't qualify it as an entry level game, Root is perfect to initiate gamers with little experience in board gaming. It's one of our coup de coeur of Gen Con 2018. Andres is actually learning the rules as I write these lines so we could play later on! 
Detective: A Modern Crime Board Game
Ok, this one, I was the one that had to purchase it. I just love games of deduction and cooperation. They make the perfect games for couples! Apparently, it is a little bit like Sherlock Holmes: Consluting Detective, but with an online database and more difficult. Yep, more difficult than Consulting Detective. 
The advantage of purchasing it at Gen Con was to get the exclusive case that will be available online, for free, until August 5th.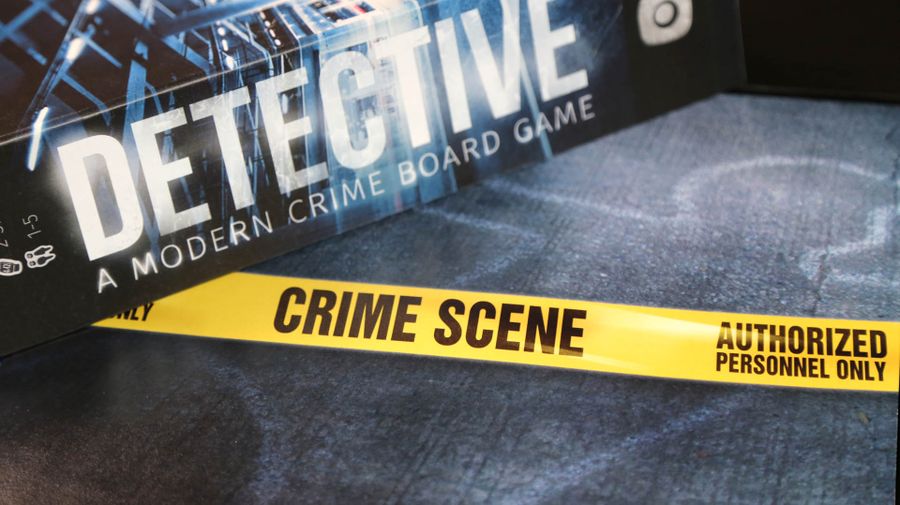 Forbidden Sky
As someone who's played both Forbidden Island and Forbidden Desert, I was really looking forward to grab a copy of Matt Leacock's third installment in the Forbidden series. However, I didn't have the chance of even seeing the box as the game sold out in 30 minutes! 
The few tables demoing the game were full and had waiting lines. As was Forbidden Island and Desert, you can expect a challenging, family-friendly cooperative board game with great components and easy-to-learn rules. 
Modern Crimes 
Modern Crimes is a game that I've been wanting to play since it first appear on Kickstarter. A cooperative board games of solving crimes and puzzles with one player using VR technologie? Count me in. 
We had the chance of seeing a prototype version of the game and it looks amazing. The VR "helmet" (more like a pair of glasses that you insert over your phone) seems of high quality and comfortable. 
The person wearing the VR "helmet" will have to describe what he sees to help his partners solve murders and other crimes. There will be 5 different cases in the base game with expansion already developed that should be released every couple of months, according to the game's representative. 
It should arrive in our store around November.
Western Legends 
Red Dead Redemption: the board game. What else is there to say? I'm completely in love with this game. It is a sandbox game (meaning that you can win doing a wide variety of things on either side of the law) set in the Far West where up to 6 players will fight, play cards, drink, steal banks or chase criminals to earn fame and fortune. It. Looks. Awesome. 
I bought a copy for myself and will crack it open as soon as I finish this article!
My Little Scythe
Stonemaier Games at a copy of My Little Scythe on demo. I had the chance of playing a few rounds. While I don't have kids, I can see how this game will really appeal to kids between 8 and 10 years old. I honestly don't feel like there is much of a game for adults in there (I was just thinking of the "real" Scythe) but, once again, I don't have kids so I wouldn't know. 
The parents that were around us seemed to love the final product. The graphic design and miniatures are flawless (to be expected when you have Scythe in your title). 
Rise of the Fenris
No copy of the final expansion of Scythe was being demoed at Gen Con 2018. As it is a kind-of-legacy game, this was to be expected. From what we heard, if you don't have any expansions for Scythe, this should be your first one as it breaks many rules and introduce lots of new, awesome stuff to the game. 
While it didn't sell out (because they had, approximately, 35 million copies), I saw many people carrying the expansion around the Exhibition Hall. 
Coimbra & Reef
There had to be 15 tables of Reef and Coimbra. They were all full with waiting lines. Coimbra was the one selling best and, from what we understood talking with many people, it was the best of the two games. 
The components and graphic design for both games is flawless, but if I had to buy one, I would go for Coimbra. 
Kick-Ass
This one really surprised me. CMON, the huge publisher of games such as Rising Sun, Blood Rage, Zombicide and many others, had the biggest booth of the Exhibition Hall. Most of their tables were used to demo Kick-Ass: The Board Game. People were LOVING it. All the tables were taken and people would stay for way too long (come on, I want to play to, Susan!) 
Even if you're not a fan of the source material, it seems like a great, action-packed, board game that can even play solo! This is my biggest suprise of Gen Con. 
Holding On: The Troubled Life of Billy Kerr
After hearing about this game, I was so intrigued. If you didn't hear about it yet, you play hospital staff discussing with a man on the verge of dying. Your goal is to make sure that he goes in peace and that he is not forgotten by making him discuss his life.
The game we tested was a prototype (and boy, did it show.), but we can see that there is a very intriguing gaming experience in there. The game plays over a few sessions where the winning condition will evolve and you will unfold the troubled life of Billy Kerr, a man blessing you with his dying breath. 
Skylands
We were tired, but still wanted to explore the Exhibition Hall. We were looking for a game to relax. Skylands is a tile laying game where you will have to create enclosed areas on your board to collect resources, buy more tiles and score points. It is a very simple game that can be taught in 15 minutes.
The cool aspect of this game was that every time you take an action, everybody takes it also, but you get to take a enhanced version of that action. It is a rewarding game with good components and a streamlined design. If the price tag is under 40$, this one should be a no-brainer.  
More Games We Didn't Have the Chance to Talk About
TRADE ON THE TIGRIS
ONE NIGHT ULTIMATE WEREWOLF
TESLA VS EDISON
ORBIS
THE RIVER
CTHULHU WARS
THE RECKONERS
DISNEY'S VILLAINOUS
EXPANCITY
ANYTHING WE SHOULD CHECK OUT? LEAVE A COMMENT BELOW!